TOURISTIC ROUTES
San Vicente de la Barquera is an ideal starting-point for some of the most interesting excursions that can be made in northern Spain.
Cantabria Map
---
1. COASTAL VILLAGES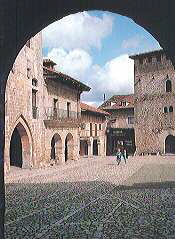 *OYAMBRE Natural Park, of great ecological and landscape value; Merón and Oyambre beaches, La Rabia estuary..
COMILLAS, interesting urban area with many imposing mansions; Sobrellano palace (Neo-Gothic/Modernist). Gaudí's Capricho pavillion, (Modernist); Pontifical University (Neo-Gothic with Mudejar influences).
SANTILLANA DEL MAR, Remarkably well-conserved medieval village of exceptional architectural interest; Collegiate church (12th century Romanesque); Regina Coeli convent (museum of religious relics); Altamira Caves ("Sistine Chapel" of Stone Age art). Santillana Zoo, the 4th best Spanish zoo http://www.cantabriainter.net/zoosantillana .
---
2. CABARCENO WILDLIFE PARK: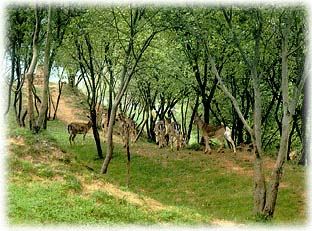 One of the prime attractions in Cantabria, where animals from the five continents can be seen in semi-liberty within a park area of 800 hectares. The park is installed in an area of abandoned opencast iron ore workings; the karst landscape exposed by mining activities is unique in Europe.
---
3. RESERVA NACIONAL DEL SAJA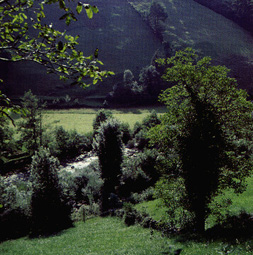 Saja National Wildlife Reserve: CARREJO- natural history museum; CABUERNIGA - numerous rural hamlets with typical montañesa architecture; CARMONA - delightfully-conserved village and Los Mier palace; SAN SEBASTIAN DE GARABANDAL- legends of appearances of the Virgin; TUDANCA - excellent example of montañesa village with mansion (La Casona) open to public; La Cohilla reservoir in POLACIONES; RICLONES - Chufin and Micolón caves (Stone Age Art).
---
4. PICOS DE EUROPA
La HERMIDA gorge; Mozarabic church (10th century) of Santa María de Lebeña; 12th century Romanesque church of Santa María de PIASCA; Santo Toribio de LIEBANA monastery (Gothic); POTES architecturally interesting town centre and Torre del Infantado; MOGROVEJO medieval tower and mountain village; FUENTE DE cable car; Puertos de Aliva- alpine pastures in the heart of the Picos de Europa.
---
5. LAGOS DE COVADONGA
CANGAS DE ONIS: medieval " Puente Romano"; La Riera - good examples of Asturian rural architecture; COVADONGA Puente de Pelayo-tourism office was formerly terminus of steam tramway from ARRIONDAS; San Fernando Basílica (completed 1901); Cueva Santa -Chapel (1874); "Marriage Fountain"; The Queen's View point; Lake Enol-Shep- Herds Meeting Hall; industrial archaelogy (early 20th century manganese mining); 10 Km path to Ordiales view-point; Lake Ercina - mountain landscapes.
---
6. RUTA DEL CARES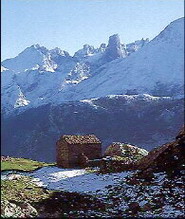 Footpath following the river Cares, between the central and western massifs of the Picos de Europa, linking Puente PONCEBOS and CAIN. 11 Km. and about 3 hours each way; (easy walking suitable for anyone in reasonable health).
---
7. EAST ASTURIAS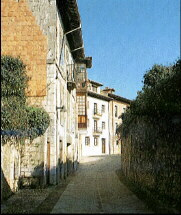 Coastal towns: Llanes, Ribadesellla, Villaviciosa...
---
8. SANTANDER
Cantabria capital , with several beaches as Sardinero. Magdalena palace, Piquio garden, Cathedral, Sardinero Gran Casino , International Menéndez Pelayo University , International festival...-.


BOOKS:
Telf 00 34 942 71 21 41
Fax 00 34 942 71 24 32
noray@ceoecant.es
HOTEL NORAY
Pº de la Barquera s/n
39540 San Vicente de la Barquera
Cantabria
SPAIN